AAT Kings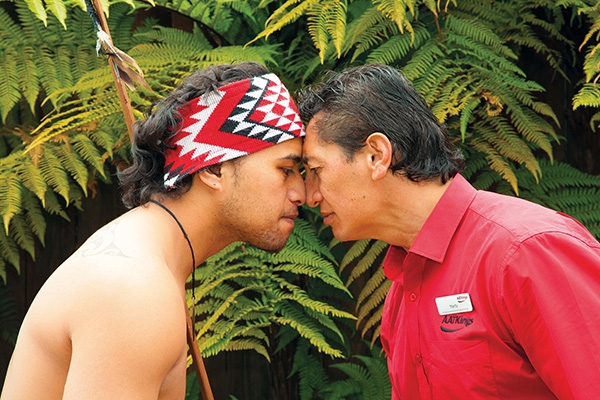 At AAT Kings we represent the very best that Australia and New Zealand has to offer. Our people are warm, friendly, engaged and enthusiastic. We love a laugh and a good story. We celebrate our great characters and our authentic personalities, and we will show you landscapes and cities that are beautiful beyond belief.
With a wide range of Guided Holidays, Independent Touring, Day Tours, Inspiring Journeys and Aussie Adventures we have a travel style to suit every traveller's taste and budget. No matter which way you choose to travel, we'll bring each destination to life. A holiday is your time to relax, and at AAT Kings we've included just about everything, so you don't have to worry about a thing. Expert commentary, stress-free travel, luxury air-conditioned vehicles, and all the must-see highlights. Our friendly Travel Directors and Driver Guides will enhance your experience with stories, local knowledge and a sense of fun. Our goal every day is to share Australia and New Zealand with our guests, to bring Australia and New Zealand to life.
OUR SIGNATURE HOLIDAY OPTIONS:
Select from AAT Kings' famous complete-package Guided Holidays, flexible Independent Touring with your choice of accommodation, and our one day or half day sightseeing Day Tours.
Guided Holidays - Our signature fully-guided holiday experiences
If you're ready to set off on an unmatched adventure, an AAT Kings Guided Holiday is the best way to discover Australia and New Zealand and immerse yourself in its landscape, history and culture. Our entertaining Travel Directors and Driver Guides will share their knowledge and local insights to make sure you experience each destination to the fullest and have an incredible time along the way.
Independent Touring - 2-19 day breaks with your choice of accommodation
Need some time off to recharge your batteries? AAT Kings' Independent Touring could be just the thing you need. Ranging from 2 to 19 days in length, Independent Touring combines the must-see highlights of a destination with your choice of accommodation along with selected meals. You'll travel with a different AAT Kings Driver Guide each day, so you'll benefit from the breadth of their combined knowledge and years of experience. Plus, you'll meet a different group of like-minded travellers each day.
Day Tours - One day or half day sightseeing tours
If you've only got a day to spare, AAT Kings offers one day and half day sightseeing tours across Australia including Sydney, Melbourne, Darwin, Uluru, Alice Springs, Perth, Adelaide, Brisbane, Cairns and the Sunshine Coast. Leave the stress of driving in an unknown city to a friendly local expert and enjoy the stories they'll share along the way. We'll show you all the must-see sights of the region and share our knowledge of its history and culture. We even offer free courtesy hotel pick-ups so all you need to do is relax and enjoy your day.
OUR SMALL GROUP EXPERIENCES:
Our boutique holiday experiences offer an intimate style of travel and take you off the beaten track. Choose from our immersive Inspiring Journeys or our fun and affordable Aussie Adventures.
Inspiring Journeys - Immersive and boutique small group journeys
On an Inspiring Journey we'll introduce you to rich and immersive experiences in an intimate small group setting. You'll travel in luxury coaches or 4WD vehicles and stay in boutique retreats, lodges and resorts with great cuisine to match. Our fascinating guides will take care of everything, leaving you free from the stress of holiday planning but also allowing you the flexibility to choose from a wide range of hands-on experiences. Best of all, you'll share you holiday with a small-sized group of up to 20 like-minded travellers, giving you the chance to really get to know each other and create incredible holiday memories together.
Aussie Adventures- Affordable, easy-going small group adventures
Aussie Adventures head off the beaten track and actively explore the great outdoors in a small group of fun and friendly travellers. You'll experience the real Australia with our authentic and down-to-earth guides and uncover hidden places and experiences that you'd miss if travelling on your own. We keep things simple, with a real focus on value for money, but we don't skimp on the must-see highlights and excitement of travelling in Australia. Choose from a range of adventures in the Blue Mountains, Hunter Valley, Kangaroo Island, Cairns and the Northern Territory. You'll travel with approximately 20 guests, all with the spirit of adventure running through their veins.